Stress-Free Car-Shopping
Buy your next vehicle with our hassle-free online car buying experience. LoveMyDeal makes it easy to find the car you love, at the price you want, with the
auto financing
you need. Our online dealmakers are readily available to guide you through each step of the online car buying process. 
Build Your Payment, Submit Your Offer & Schedule Delivery
Shop and Schedule Delivery From Home
Check out our
used car inventory
where you can do everything from the comfort of your home. Do everything from finding the right vehicle to arranging the financing online and we'll
deliver your new car
right to your door!
Wide Variety of Used Cars in Every Body Style
Use LoveMyDeal to find, finance, and buy your next used car all online! Whether you're in the market for an efficient compact, family-friendly SUV, or rugged pickup truck, you can find it and buy it online. 
Buy Online Without Making a Trip to the Dealership
Tired of running from dealership to dealership to find the right used car?
Step into the modern age and make your purchase on our website! Our online car dealership is equipped with
a wide range of inventory
, and we'll even deliver it right to you so you never have to visit a dealership.
Delivered to Wherever You Are
Delivered Your Way
Love My Deal offers two great ways for you to start driving your new vehicle. Either choose to have the vehicle delivered right to your driveway or have it delivered to any nearby convenient location. We offer free delivery to most of Indiana, Illinois, Kentucky and Tennessee, backed by our 5-day return guarantee. 
Get a used pickup truck, minivan, suv or crossover, large suv, sports car, sedan, convertible, or luxury vehicle brought to you
You can also choose in store pickup at our Evansville, Indiana location.  
Buying Your Used Car Online in Indiana
At LoveMyDeal, you will find an outstanding online car buying experience. With every step from research to delivery happening online, you'll never have to visit a dealership to buy your next used car, truck, or SUV. LoveMyDeal proudly offers free used car delivery throughout most of Indiana, Illinios, Kentucky, Ohio, Tennessee, and Missouri. Give us a call today to learn more!
Free Car Delivery Throughout Indiana
With other used car dealers, you'll still have to head down to the dealership to finalize the paperwork and schedule delivery of your new car, truck, or SUV. With LoveMyDeal, we'll bring your new car right to you. No more making an appointment to come down and sign a few pieces of paper before you take the keys. Just let us know where to bring your chosen vehicle, and we'll bring it to you at your convenience. What could be more flexible than that?
Why Buy a Car Online?
These days, you can do all the research you need for your next used car without ever getting off the couch. With so many resources available, its easy to see why buying your next car online is the next logical step. You already apply for financing online, and visiting the dealership is merely a formality that takes hours out of your daily life. At LoveMyDeal, we've eliminated that needless step in the process by allowing you to complete your vehicle sale without ever visiting a dealership. If you can qualify for financing online, you should be able to buy your car online, and now you can!
Check Us Out Today!
Finding your next used car doesn't have to be a hassle. Use LoveMyDeal to shop, buy, and arrange delivery of the used car that's caught your eye, and never worry about haggling or visiting a dealership ever again.
Contact our Online DealMakers
(888) 250-3023
Phone Support Available (CST)
Monday

8:00AM - 7:00PM

Tuesday

8:00AM - 7:00PM

Wednesday

8:00AM - 7:00PM

Thursday

8:00AM - 7:00PM

Friday

8:00AM - 7:00PM

Saturday

8:00AM - 5:00PM

Sunday

Closed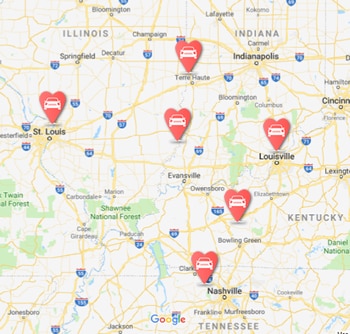 See what our customers are saying
Now Serving Terre Haute, Bloomington, and Indianapolis
Hours
Monday

8:00AM - 7:00PM

Tuesday

8:00AM - 7:00PM

Wednesday

8:00AM - 7:00PM

Thursday

8:00AM - 7:00PM

Friday

8:00AM - 7:00PM

Saturday

8:00AM - 5:00PM

Sunday

Closed